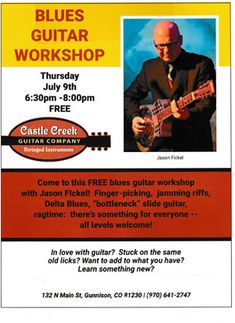 Learning has never stopped for Jason Fickel. Fortunate to have had wonderful teachers in his Colorado youth and blues masters in his Mississippi years, Fickel builds on that foundation with constant inquiry and practice. More importantly, sharing that knowledge has become a key part of his musical endeavor.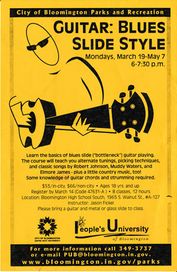 Jason offers private one-on-one guitar lessons in his home studio focusing on American roots music repertoire development. Also, Jason has conducted successful group workshops on blues and slide guitar.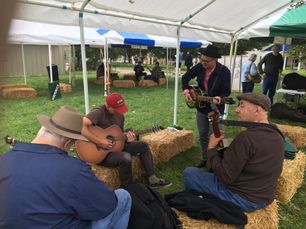 The past four years he's led workshops ("Bottleneck Blues," "Muddy Waters Slide Guitar," among others) at the Metamora Old Time Music Festival, in historic Metamora, Indiana, and in his hometown, Gunnison, Colorado, at Castle Creek Guitar Company, home of the Dobrato.
He has shared his silent film accompaniment skills with demonstrations at classes at the IU Jacobs School of Music.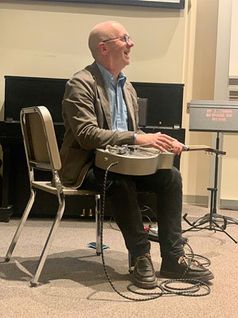 Fickel has conducted 8-week adult classes for People's University and even a workshop about Lead Belly and Alan Lomax with 5th and 6th graders at University Elementary School in Bloomington. 
To arrange a lesson or group workshop, please contact Jason directly at jason@jasonfickel.com
Jason Fickel / Jason@JasonFickel.com 
Great ciders, all ages, no cover! An evening of blues/jazz/funk/country + more!
I'm the DJ on WFHB's long-running blues-music radio show, Blue Monday. I spin classic and contemporary blues tunes, 9-11pm eastern time. Ways to listen: wfhb.org/listen
I'm the DJ on WFHB's long-running blues-music radio show, Blue Monday. I spin classic and contemporary blues tunes, 9-11pm eastern time. Ways to listen: wfhb.org/listen