Guitarist and songwriter Jason Fickel creates music that connects the heart and soul of the blues with country music's wry chronicles of loss and longing. Apprenticing with legendary bluesmen in Mississippi, cutting his songwriting teeth in the clubs of Chicago, he has forged a career as an engaging storyteller and skilled performer.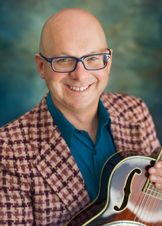 Fickel was born in Kansas and raised in western Colorado, the son of farmers and avid storytellers. "My family had a lot of country raconteurs, so when I started writing songs I tapped into that deep well," Fickel recalls. He has drawn on his family's trove of tales over the years, weaving them into his songs.
He picked up the guitar at 10, longing to play the country and pop tunes he heard on TV and radio. Then one day, a guitar teacher slipped him "One Way Out" by Sonny Boy Williamson. "I was bitten by the blues bug," says Fickel.
To scratch that itch, Fickel decided to head to Mississippi for college. There he discovered a whole scene of fellow blues fanatics, playing at picnics, juke joints and jam sessions.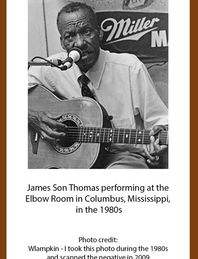 To deepen his understanding, he apprenticed with bluesmen James "Son" Thomas, Walter Liniger, and Othar Turner, learning blues guitar and the blues trade from the masters. Within two years, he was playing professionally, opening shows for his Mississippi mentors as well as national acts including John Hammond. Next Fickel headed north, first to Rhode Island, where he played coffeehouses and biker bars, and then on to Chicago, where he honed his songwriting craft.
Now based in Indiana, Fickel continues to tour, give lessons and workshops (focusing on Mississippi slide guitar), and write and record original music, solo and as part of the duo Jason & Ginger. Together, they were semi-finalists at the 2011 International Blues Challenge.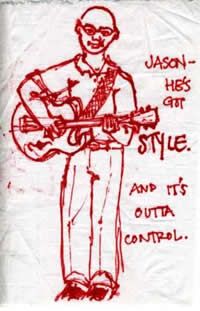 Fickel takes musical community seriously, having served as a bandleader for Bloomington community radio station WFHB's live radio variety show, Firehouse Follies, and as a committed DJ for the station's long-running Blue Monday show. He's often found playing live soundtracks to accompany silent films at Indiana University's state-of-the-art IU Cinema.  Fickel was also featured in Brick Briscoe's Song Show podcast.
"Music is a vocation for me," muses Fickel. "I just can't set it aside."
Jason Fickel / Jason@JasonFickel.com 
Previous events
Blues + BBQ: a great time!
Jason & Ginger @ Metamora Music Festival
Jason Fickel on WFHB's Blue Monday
I'm the DJ on WFHB's long-running blues-music radio show, Blue Monday. I spin classic and contemporary blues tunes, 9-11pm eastern time. Ways to listen: wfhb.org/listen
This week's playlist:
Nina Simone / Blues on Purpose
Kim Wilson / Strollin'
Lowell Fulson / Pico
Duke Robillard / Rock Alley
Clarence "Gatemouth" Brown / Pressure Cooker
The Fabulous Thunderbirds / In Orbit
The Staple Singers / Why (am I Treated So Bad)
Pops Staples / Down in Mississippi
Pops Staples / Gotta Serve Somebody
Jesse Mae Hemphill / Lord Help the Poor and Needy
Hayes McMullan / Hurry Sundown
Sugar Ray & The Bluetones / Don't Give No More Than You Can Take (feat. Little Charlie Baty)
Duke Robillard / Everybody Ain't Your Friend
Nora Jean Wallace / I've Been Watching You
B.B. & The Blues Shacks / True Love in Vain
Tampa Red / Let Me Play With Your Noodle (Remastered)
Muddy Waters / My Eyes (Keep Me in Trouble)
Nina Simone / Sugar In My Bowl
Ethel Waters / Blues in My Heart
Washboard Sam / I've Been Treated Wrong
Mildred Bailey / That Ain't Right
B.B. King / Ain't Nobody Home
B Willie Smith / Walkin' Blues
George Thorogood & The Destroyers / Crawling King Snake
The Allman Brothers Band / Can't Lose What You Never Had
Elmore James / My Bleeding Heart
Denise LaSalle / Your Husband Is Cheating On Us
Bobby "Blue" Bland / Ain't No Sunshine When She's Gone
Brook Benton / Revenge
Paul Gayten / The Sweeper