M Cooper Harriss and I often have great discussions about the intersections of race and literature and music.  Many of those conversations are over beer and wine in pubs and living rooms, but we have been fortunate enough to capture some of them on the air -- often as part of my monthly DJ slot on WFHB's  Blue Monday, the radio show devoted to contemporary and classic blues. Past on-air conversations were about Zora Neale Hurston and Bob Dylan. This time the impetus was Cooper's new book, Ralph Ellison's Invisible Theology  (NYU Press), about the classic 1952 novel, Invisible Man.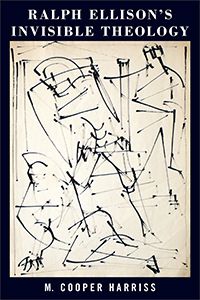 Cooper's book is about a lot of things -- the novel, Ellison's life, and beyond -- but I particularly wanted to talk about the blues language and even blues theology that pervade both the novel and Cooper's book. If you're like me, exploring this connection between music and theology might mean you never think about either the same way again.
Doug Storm, producer of WFHB's arts and ideas show, Interchange, graciously offered that show as the forum for our Invisible discussion with yours truly as guest host.  (Doug previously edited our Hurston Blue Monday show into an Interchange episode as well.) The full interview aired May 29, 2018, and the archive edition can be heard here.  Listen and enjoy!
The night before the Interchange show, I previewed some of the songs and themes on Blue Monday: 
(What Did I Do To Be So) Black And Blue/Louis Armstrong (August 4, 1901 – July 6, 1971) / This recording is central to the prologue of Invisible Man / July 22, 1929
 John the Revelator / Son House/  (March 21, 1902 – October 19, 1988) / Echoes Ellison's Revelation motifs/1965
Royal Garden Blues/Benny Goodman Sextet (featuring Charlie Christian [July 29, 1916 – March 2, 1942] on guitar)/ Christian and Ellison both attended Douglass High School in Oklahoma City; Christian was three years younger   / November 7, 1940
Jaybird Blues/Peetie Wheatstraw (December 21, 1902 – December 21, 1941)/ St. Louis bluesman mentioned by name in Ellison's Invisible Man / April 4, 1940
Gone to Main Street/Muddy Waters (April 4, 1913 – April 30, 1983)/"Father of Modern Chicago Blues," contemporary of Ellison / September 17, 1952 (same year as Invisible Man)