Bessie Smith was the featured artist on my March 2, 2018, Blue Monday radio show on WFHB.  Born in Chattanooga, Tennessee, about 1894, Bessie played on the street with her brother and then joined the Ma Rainey traveling show sometime in the early 1920s.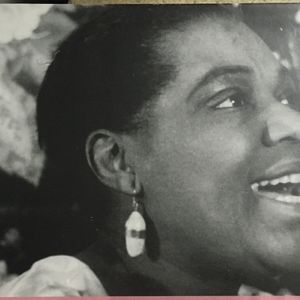 After Mamie Smith's (no relation) Crazy Blues  became a massive hit in 1920, talent scouts searched for more female blues artists and indeed they found some great ones: not only Rainey ("The Mother of the Blues") but her amazing protégé, Bessie Smith ("The Empress of the Blues").  Bessie would record over 160 songs for Columbia records and they sold well.  She toured the US using her Philadelphia as her home base.  Bessie Smith was the highest paid black entertainer of the 1920s.
It is difficult to overstate her influence.  As I see it, that profound influence went two directions: first, she created the basis of female vocal jazz.  You can hear echoes of her vocal style immediately in Billie Holiday, Sarah Vaughan, and Ella Fitzgerald.  Further, the very ideal format -- the template --  of female vocal jazz is the instrumentation on the best Bessie Smith records:  piano, bass, and an active horn or two.  The second branch of her influence is the lyrical themes which had a profound influence on the "country blues" singers of the 1930s.  As one illustrative example, Mississippi guitarist-singer Hayes McMullen, who lived in the Delta from 1902 to 1986 and played with Charlie Patton, recalled to researcher Gayle Dean Wardlow that he adapted Smith's hit songs to his own openly-tuned acoustic guitar style. (Hayes makes an appearance in my own meditation on Tallahatchie County, "Most of All.")
Songs by Bessie Smith like "Back Water Blues" and "Downhearted Blues" tell stories of devastation both environmental and romantic. Some lyrical passages, like this one from "Downhearted Blues," have shown up in multiple variations for the past 80 years:
I ain't never loved but three men in my life
My Father, my brother and the man that wrecked my life
One of my favorite takes on this one, perhaps more playful than Bessie's original, is in Chicago bluesman Jimmy Rogers's 1950 "Going Away":
 I ain't never loved but four womens in my life
My mother, my sister, my sweetheart and my wife
The Depression hit the record industry and Bessie's career hard.  The bookings and recordings trailed off and she was released from Columbia.  When the industry came back, the blues trend was away from female singers with jazzy horns and toward male singers, often accompanying themselves on guitar or solo piano. 
By the mid-1930s, these new blues singers had made compositional adjustments to the form. Many of Bessie's compositions begin with an 8- or 16-or 20-measure "verse" to introduce the song, then go to the the "chorus", the repeated, now-familiar, 12-bar form. But the new singers dispensed with the sometimes more harmonically complicated verse and mostly sang and composed using the 12-bar format. 
(Most songs of the Great American Songbook era retained this introductory-non-repeated-verse-to-familiar-chorus structure.  Listen to Hoagy's "Stardust", especially Sinatra's version where he, perversely, only sings the verse -- thanks to Donald Gray for sending this my way many years ago!)
Queen Latifah starred in a very entertaining Bessie 2015 biopic directed by Dee Rees.  The musical pieces and soundtrack are very entertaining and Latifah's performance is generous and wonderful.  (Fortunately and tastefully, the faithful film did not depict Bessie's horrific 1937 death in a car accident in the Delta.)
In the late 1960s, The Band, with Robbie Robertson and Rick Danko on vocals, recorded a lovely piece called "Bessie Smith" that seems inspired by her and I included it in my radio show along with these songs (via Spinitron).  Norah Jones has a nice cover of this song, too.
My singing partner Ginger Curry and I have performed some of Bessie Smith's better known songs including "Ain't Nobody's Biz-ness if I Do", "Young Woman Blues," and "Me and My Gin".  Our version of "Put Some Sugar in my Bowl" is based on Nina Simone's cover and is more PG-13 than Bessie's nearly-R-rated original.  And our celebration of the women of the blues CD has her "A Good Man is Hard to Find" as its title track.  Ginger is an amazing vocalist and her singing on the Bessie songs is nothing short of thrilling.
Here's some more Bessie Smith tunes: